If you are looking for a cleaning product that saves you time and effort, then look no further than the iRobot Roomba 960. However, is it really worth the large price tag?
Review – this item has been reviewed by our Editor, and Now We Are Home received no financial reward for this. All opinions are our own.
I love the ease in which I can clean my house with the help of a robot!
iRobot Roomba 960 Review
Pros
Excellent at cleaning most floors
WiFi enabled, so can be turned on when you are not home
Mobile app tells you when the job is complete
It will recharge during a job and then restart in the right area.
Tells you when the bin is full.
75 minute run time
Cons
It struggles on thick piled rugs
It struggles with bar stools (Roomba is stuck near a cliff!)
Can get wedged under low furniture
It only comes with one virtual wall barrier
Can get lost and not find its way back to the base
Overall Review of the iRobot Roomba 960

4.4/5
Set up of the iRobot Roomba 960
While the Roomba is charging you need to download the iRobot app to get it connected to the wifi.
Once the Roomba has charged it is simply the case of either pressing the clean button on the robot or pressing clean from your phone.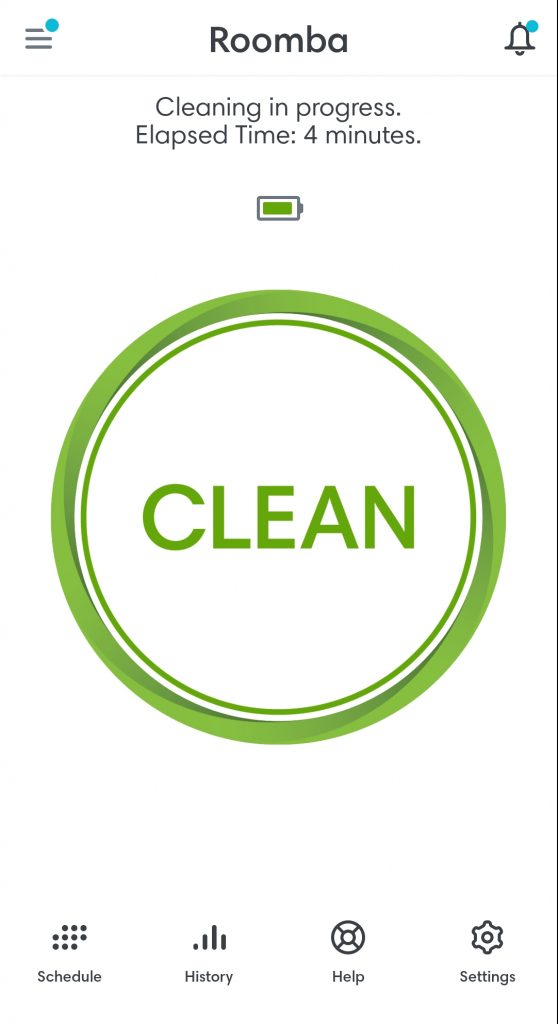 It will clean for about 75 minutes (assuming it doesn't get stuck!). The suction is very good, and cleans as well on both hardfloor and short piled carpets.
The Roomba 9 series is ideal for homes with pets. High-Efficiency Filter captures 99% of allergens, pollen, and dust as small as 10 microns. I can not comment on this as I don't have pets, but I have no reason to believe it is not true. I have very long hair, which falls out far more regularly than I would like, and it picks these hairs up with ease!
Currently, I do not use the schedule, as everyone is at home, either working from home or bored as summer camps are not running during the Pandemic. But it is great, I used to set it coming on every day when my husband left for work and while I was on the school run. Perfect!
Performance of the iRobot
I have only ever had Dyson vacuums prior to this robot, so I really am not in a position to compare it to other robots. That being said, I really like it. I think the iRobot 960 cleans very well on both hardfloor and short pilled carpets.
You do have to make sure the floors are free of wires, mess and that the virtual barrier is in position though. So it is not quite as simple as just letting it clean. For example, I have a very large shag pilled rug in the living room, if I were to set the Roomba to clean I would have to lift this up so it can clean the entire room. Also at the patio doors I have to make sure the virtual wall barrier is there or the Robot will get stuck.
"Does the Roomba 960 have Mapping?"
The Roomba 960 has visual navigation and will intelligently map and clean the entire floor. Below is a picture of the map it made of my lower floor. To be honest, I can't quite make it out, but interestingly, yet again, Roomba got stuck on a cliff!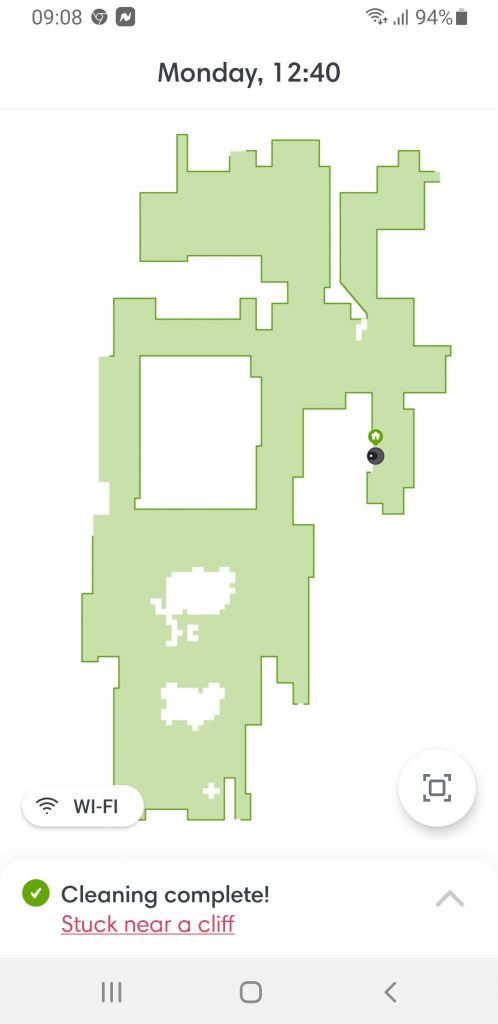 "Does Roomba 960 Learn the Floor Plan?"
This Roomba has extra sensors over the previous models, and over time it will learn the floor layout. This allows for more efficient cleaning as it doesn't need to keep learning the floor plan.
"Can Roomba 960 Work in the Dark?"
Not very well. The inbuilt camera doesn't work well when it is dark and you might find that it is not cleaning properly. It works best in day light or even dim light.
"How long does Roomba 960 last?"
The Roomba can clean for about 75 minutes before needing to go back to base to charge.
I have had the Roomba 960 now for about a year, as you can see from the lifetime history below. It is still going as strong as ever. I have not replaced the rollers yet, I am sure I will have to at some point though.
This history shows that the Roomba has covered an amazing 197,900 sq ft. but anything in red means there was a problem. Either the battery died and it could not go back to base, or more likely it was stuck near a cliff! I have a fairly minimal house, and certainly don't have clutter on the floor. So this is fairly frustrating. As it goes at the minute though I am at home a lot during Covid, but if I have set it to run when I am out, this is very annoying.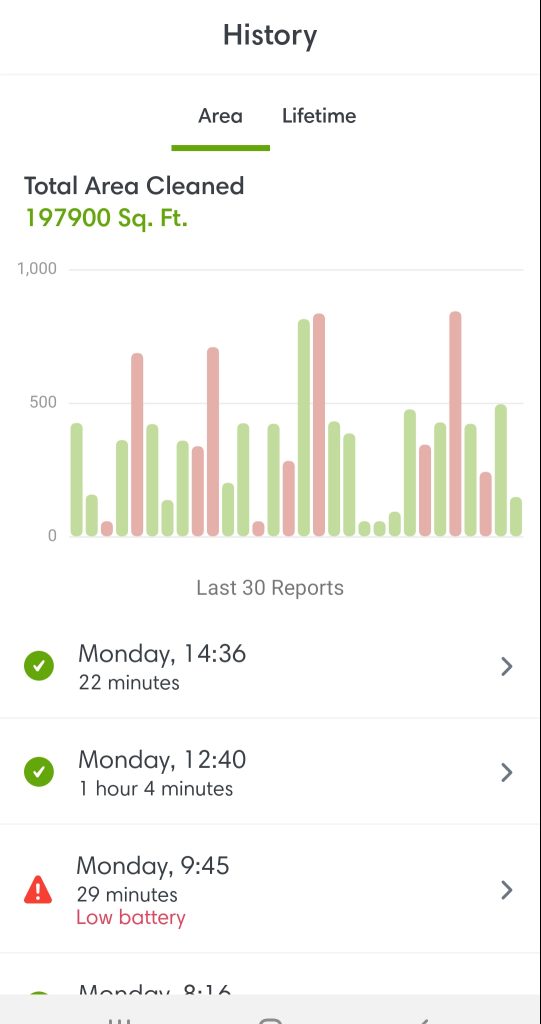 Cleaning of the Bin and Filter
When the bin is full the Roomba will beep and flash red so you know it is time to clean the bin. It is very simple to empty the bin, and on my hardfloors it takes a long time for the bin to be full. On the carpet, it will obviously need emptying more often.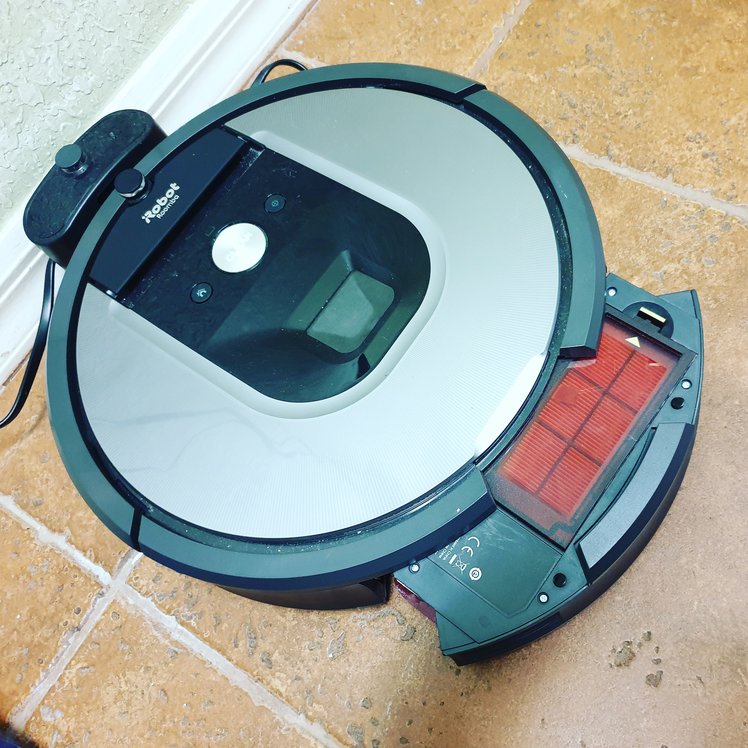 With regards to cleaning the filter, if I am honest I am a bit rubbish at it. So its probably washed every other month. No shock, but after it has been cleaned the floors are noticeably cleaner!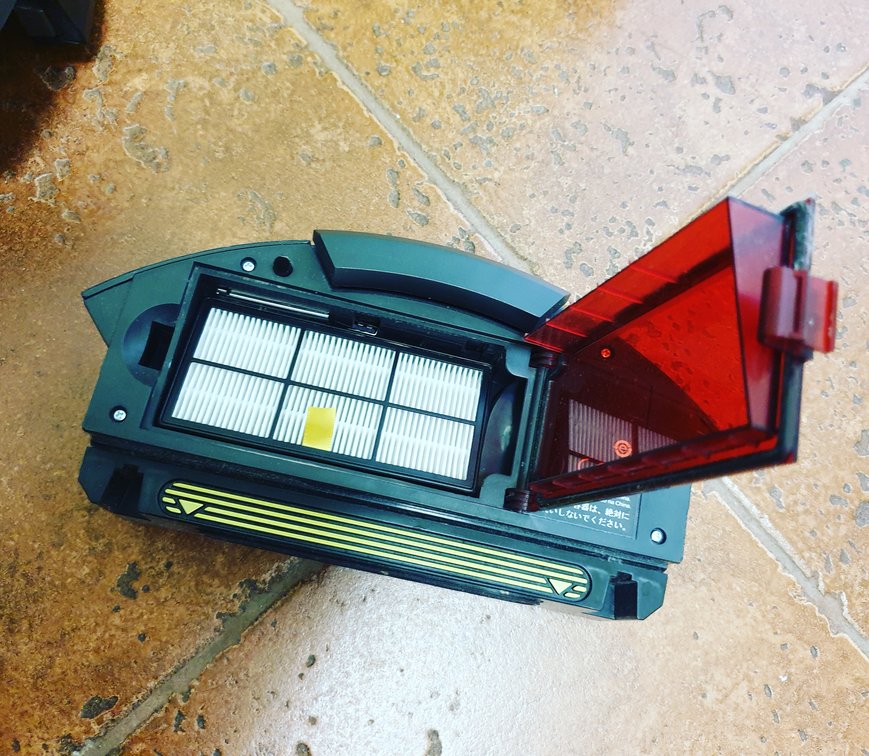 The Roomba 960 comes with an additional filter which is great. To buy replacement filters and rollers it costs about $40 from Amazon.
You will also need to clean the rollers at the bottom as hair gets tangled at the ends. These are very easy to remove. If your vacuum isn't cleaning as efficiently as normal this is nearly always the reason. So I would recommend cleaning these every time you wash the filter.
Roomba Base Location
You need to make sure you locate the base of the Roomba away from any mess. I have mine in my laundry room so it is not in the way.
Roomba Comparison Chart
| Robot Vacuum | Amazon Rating | # Amazon Reviews | Price |
| --- | --- | --- | --- |
| Coredy Robot 1700PA | 4.5/5 | 2,299 | $180 |
| Goovi 2000PA | 4.6/5 | 1,256 | $183 |
| Goovi 1600PA | 4.5/5 | 5,769 | $187 |
| eufy BoostIQ RoboVac | 4.4/5 | 18,818 | $220 |
| iRobot Roomba 675 | 4.3/5 | 10,695 | $270 |
| iRobot Roomba E5 | 4.3/5 | 1,871 | $300 |
| iRobot Roomba 960 | 4.3/5 | 5,056 | $449 |
I have to say I am incredibly surprised by the above table. When I write a review of anything I like to add a comparison table, just to be as impartial as I can. I had no idea the Roomba 960 was so expensive compared to other models. I have not tried any of the others, however, the reviews look fantastic for all of them.
Is the Roomba 960 Worth it?
Personally for me, yes it is absolutely worth it. If I had done my research before purchasing though, I am not sure in all honesty I wouldn't have opted for a cheaper model though? If I hadn't looked at the price of the competition though, then yes I would say the Roomba 960 is worth it.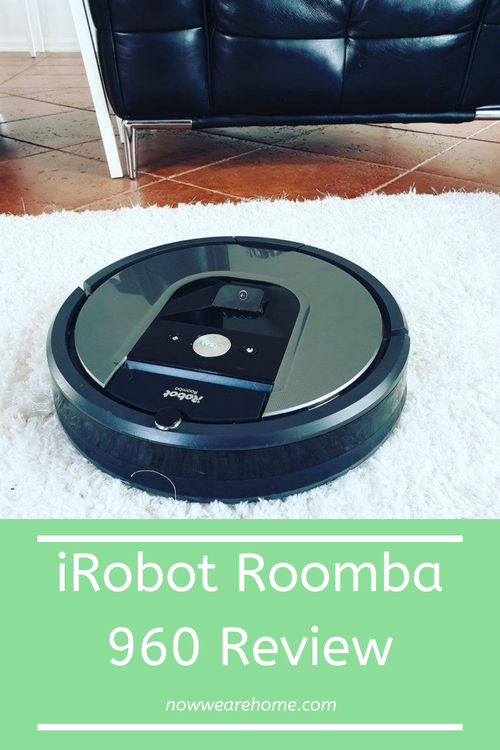 If you enjoyed this post, you should also check out the Bissell Spinwave cordless mop and the Dolphin Pool Cleaner