If you are lucky enough to have your own swimming pool, I highly recommend you invest in a Dolphin pool cleaner.
Review – this item has been reviewed by our Editor, and Now We Are Home received no financial reward for this. All opinions are our own.
A lot of research was done before we invested in such a high priced robotic pool cleaner, however, it was definitely worth it. The price of the Dolphin Nautilus CC Plus was $800!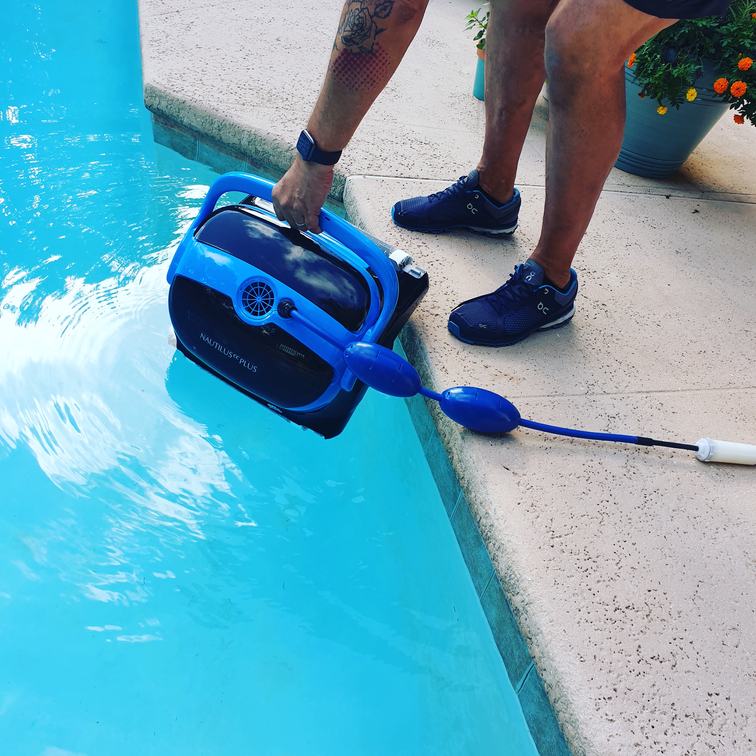 Expensive to purchase at $800
Customer Service is noted in other reviews as poor (we have not needed this)
Can only buy online (Amazon, however, is an authorized online seller)
Doesn't manage steps very well
Overall Review of the Dolphin Pool Cleaner 4.9/5
Set Up of the Dolphin Nautilus Robotic Pool Cleaner
This was one of the reasons we originally purchased it, is that the set up is super easy. In fact you literally plug it in, place the robot in the swimming pool and it is ready to go! This is the first home we have had that has a swimming pool, and unless you have always had one they are a lot of work!
Most people dream of having a house with a pool (we did!) and we still love it, however, it is a lot of work. Making sure the PH levels are correct, that the water is clear and chlorinated, and that there is just the right amount of water in the swimming pool so that the skimmer can work properly. Then, of course, you need to clean out the filter on the skimmer basket every day, and skim the top of the pool off for the leaves, but mostly the flying ants!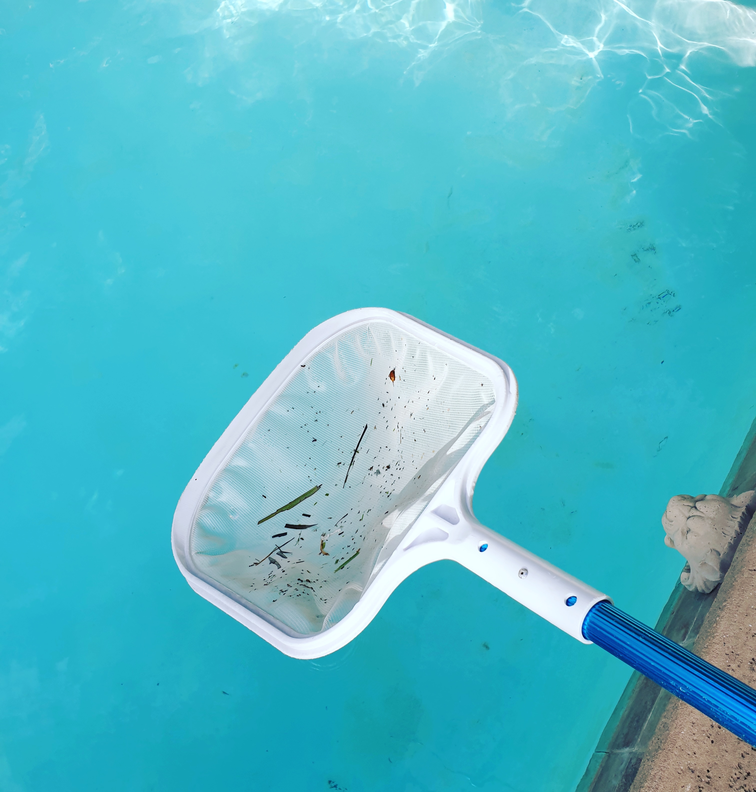 As I like everything to be clean, having a pool service once a week just wasn't leaving our swimming pool as clean as I would like. It was sparkling the minute he left, but by the next day, it needed vacuuming again.
The Dolphin pool cleaner was so easy to set up and start working I was feeling very hopeful.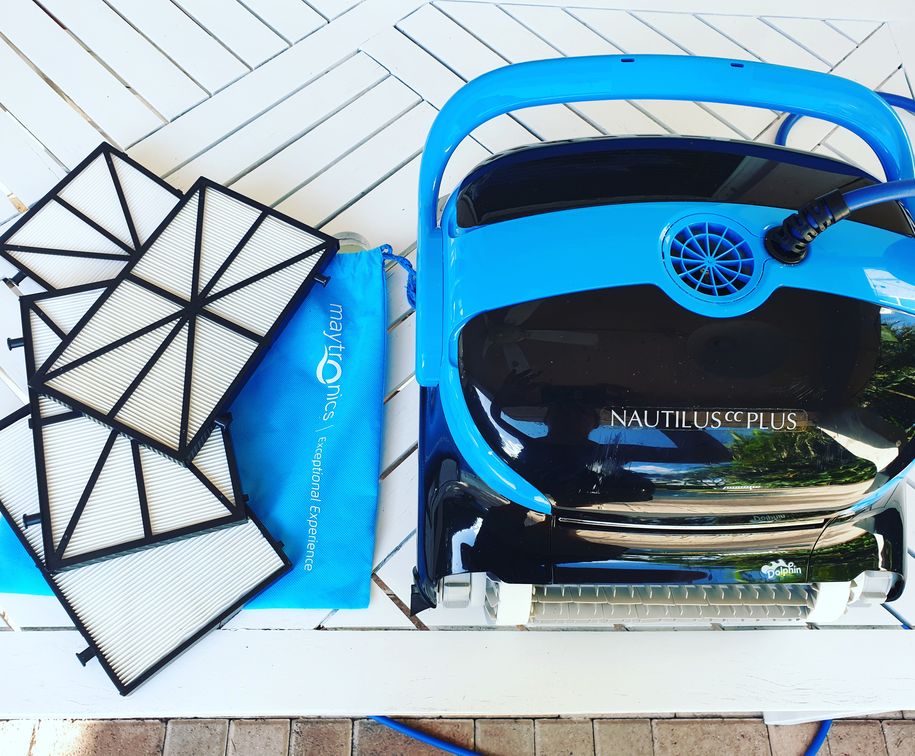 Performance of the Dolphin Pool Cleaner
The robot cleaned the entire swimming pool with the exception of our seating and table area (however, the second time we used it it had a good go in this area.) It uses clever cleaning (CC) technology and has dual scrubbing brushes to ensure your pool is sparkling clean.
Not only does the Nautilus CC Plus robot cleaner make the bottom of your pool clear of debris and silt, but it also climbs the walls! It climbs up the walls to the waterline and gently scrubs away any debris or algae.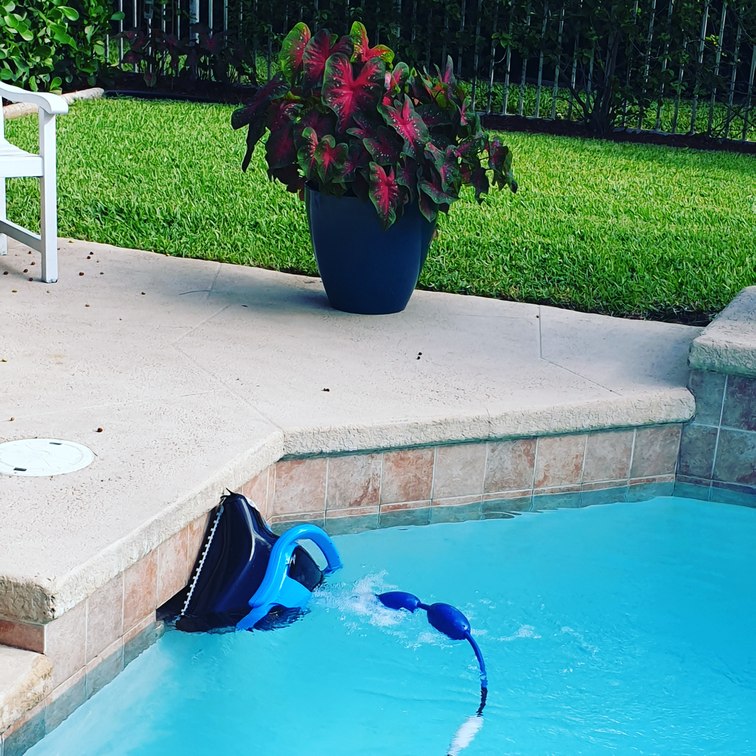 "How long does the Dolphin Pool Cleaner take to run?"
After two and a half hours the Dolphin just stopped moving. To be honest, I wasn't sure if it was broken as there was no beep to let me know it had finished, and there was no clear sign on the panel either. But, I didn't worry for more than a couple of seconds as the pool had never been so clean, it was sparkling.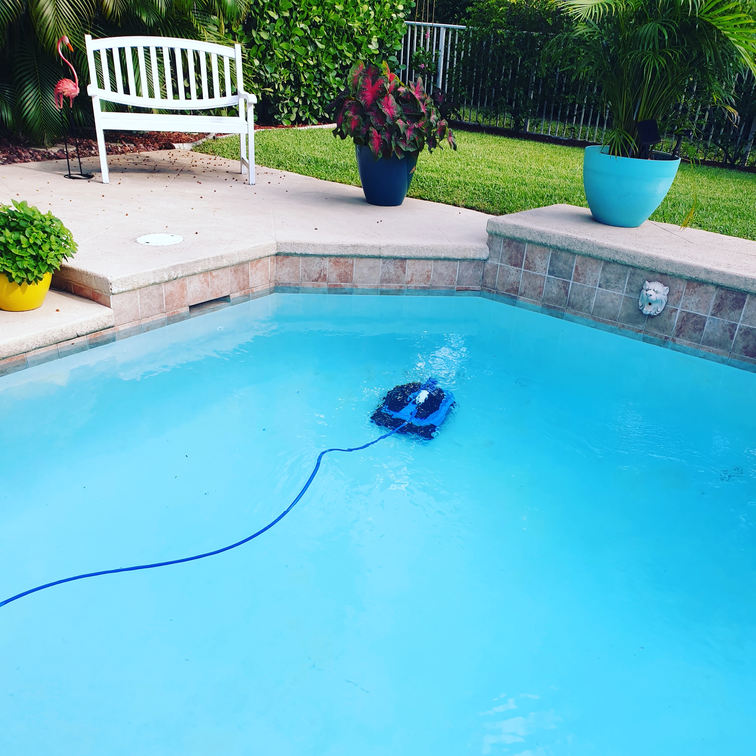 Getting it out of the swimming pool was interesting too. When the robot had finished its cycle it just stopped in the middle of the pool. I am not sure what I was expecting to be honest, maybe, that it would stop in the same place I had put it. But this wasn't a problem. I gently pulled it to the edge via the cable, and as soon as I could reach the Dolphin nautilus I pulled it out with the handle. It was very heavy, as of course it was filled with water. So I recommend gently pulling it out so the water drains out over the pool rather than over your feet (lesson learnt!).
The first time I ran it with the standard filters that it had been delivered with. I was very impressed with the amount of fine silt/sand it had collected with these filters. I thought I would need to run it with the fine filters for this.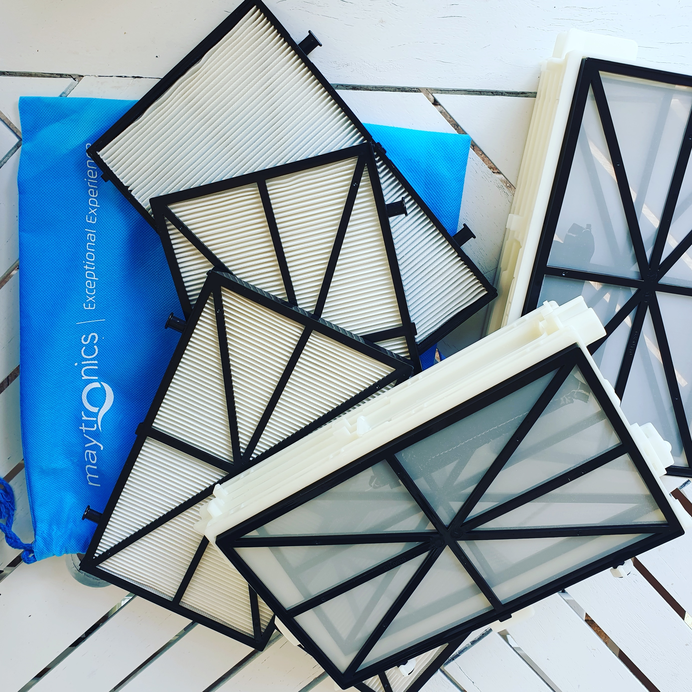 "Can I swim while using the pool cleaner robot?"
It is advisable not to. Although the cables are all watertight, as it is connected to the electricity I certainly would not take the risk, albeit a small one. Also with the robotic pool cleaners, they are constantly moving, and as they are connected to the electric with cables you could easily get tangled with the cables.
"How often should I run my robotic pool cleaner?"
It depends how clean you like your swimming pool! At least one a week at the very minimum. If you are using your pool regularly though certainly in the summer months, I personally use the robot every other day. But in the winter months probably once a week or twice a week would suffice.
"Can I automatically schedule the Nautilus CC Plus?"
Yes and no. You can set it up to run every day, every other day or every third day. Which is great, however, once it has done a week it stops. Personally I wouldn't use it any way, as I like to keep the robot out of the pool apart from when it is cleaning. That way I make sure to clear out the filters after every use too. So for this reason I have not included it in my cons list.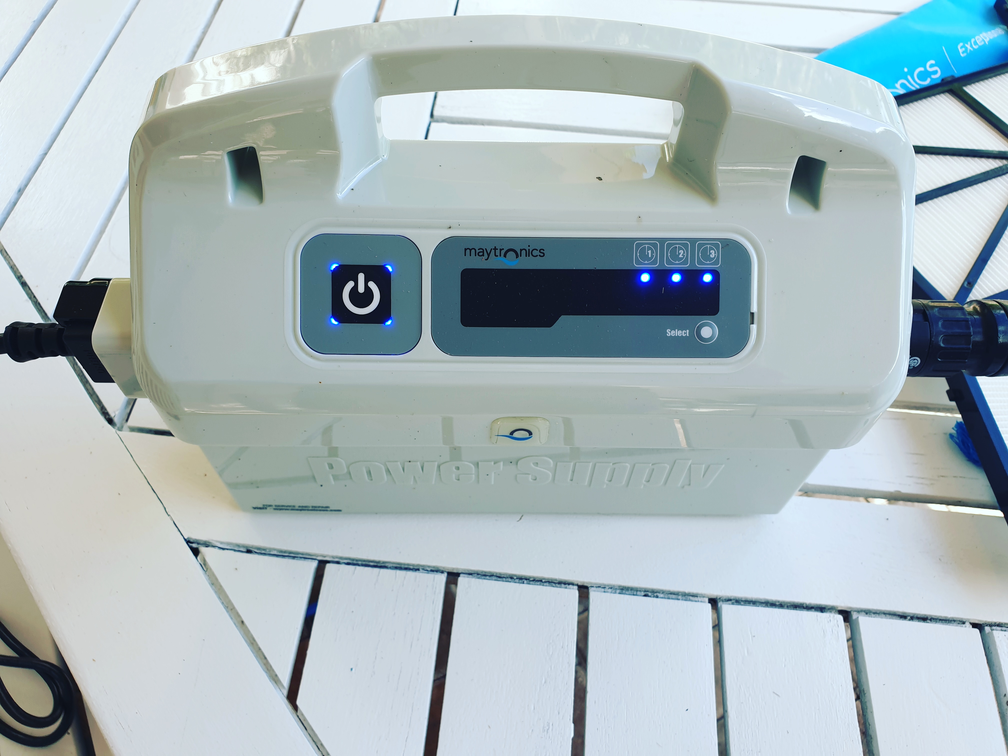 Cleaning the Filters on the Maytronics Pool Cleaner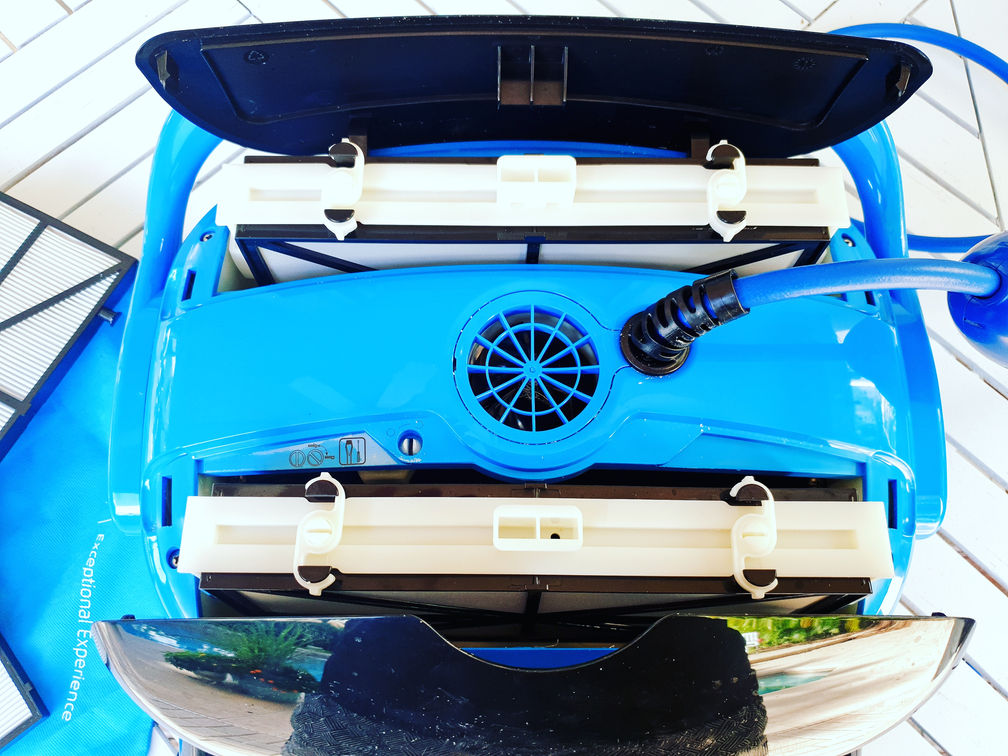 The two large filters are at the top of the pool cleaner, which on first glance should make it easy to get out. However, as you shouldn't rest the vacuum on the floor as it will damage the bristles, it is actually quite difficult. Trying to hold it in one hand while trying to get the filters out is a little hard work, but I am sure with time this is something I will maser. If I had a pool caddy though this would be easy! So I think in time I will invest in one of these!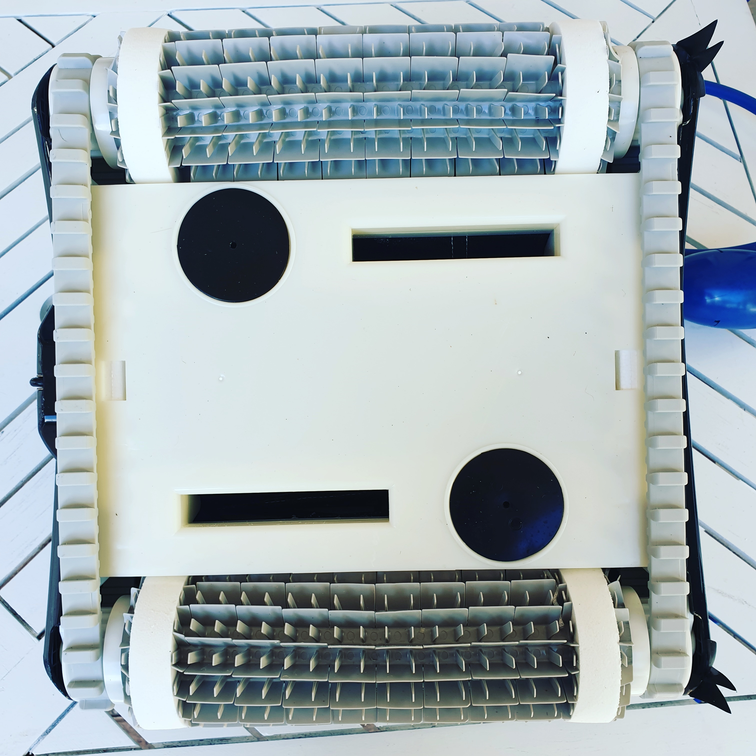 Once you have the filters out of the pool cleaner though, it could not be easier. There are two easy clips on both of the filters which are just twisted off. Once apart they are easily cleaned with a hosepipe. I definitely recommend doing this every time. Certainly the first time I ran this the filters were nearly full.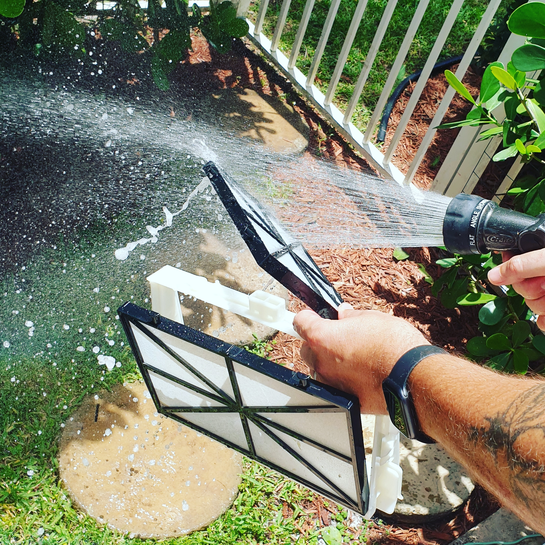 The Power Supply on the Maytronics Dolphin Pool Cleaner
The power supply is NOT WATERPROOF. It is water-resistant though. You need to keep it off the ground so it doesn't stand in any water. It can't be left in direct sunlight either so it doesn't overheat.
"Is it expensive to run a robotic pool cleaner?"
No, it only costs about 15 cents to run for three hours! This was another reason we opted for a robot cleaner as it is not attached to the pool pump.
Cost of the Dolphin Nautilus CC Plus
It costs approx $800 from Amazon, so it is certainly not cheap. The life span of these robot pool cleaners according to Maytronics the manufacturer is five to seven years. Much longer than other manufacturers. So assuming your robot will last on average 6 years the cost of this is only $2.5 a week!! That doesn't sound so expensive now, does it?
Price comparison and reviews of other robotic pool cleaners
| Robotic Pool Cleaners | Amazon Rating | # of Amazon Reviews | Cost |
| --- | --- | --- | --- |
| Dolphin Proteus DX3 | 4.3/5 | 166 | $598 |
| Dolphin Nautilus CC | 4.3/5 | 951 | $599 |
| Maytronics Dolphin Nautilus CC Plus | 4.3 / 5 | 2,471 | $779 |
| Dolphin Triton PS Automatic | 4/5 | 346 | $849 |
| Dolphin Premier Robotic | 4.2/5 | 579 | $1,147 |
| Polaris F9550 | 3.8/5 | 530 | $1,399 |
| Dolphin Nautilus CC Supreme | 4.2/5 | 103 | $1,449 |
As you can see the Nautilus CC Plus is actually on the cheap side of the automatic pool vacuums available. The reason we didn't opt for the Dolphin Nautilus CC is that it only has one filter compared to the two in the Plus model. Also, the Plus model came with a set of 4 fine filters to use as well as the standard 4. If I were to purchase the fine filters on Amazon they themselves are a staggering $70.
Do I recommend the Dolphin Nautilus CC Plus?
Absolutely, I waited about three months before getting one and I now do not know how I managed without it! It cleans extremely well and all I need to think about now is when to go swimming!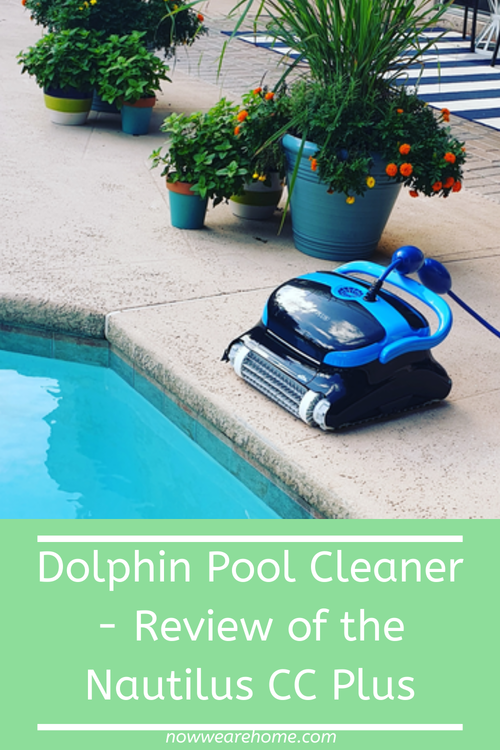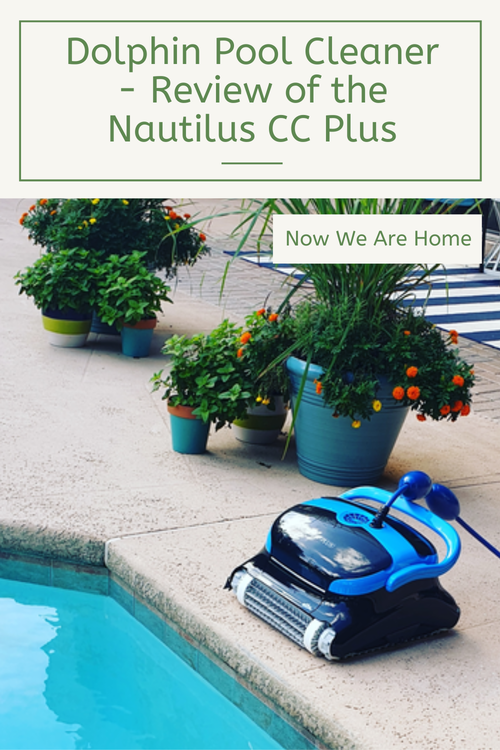 If you enjoy all things robotic check out our recent review of the iRobot Roomba 960