After learning the hard way, I thought I would share my experience on sealing butcher block countertops the easy way with Waterlox.
We recently renovated our kitchen. We started with a very small island which we have now transformed into a much bigger space, two islands and a dining table in the middle. I have had butcher block in previous houses and know how striking it can look.
As we were doing this on the cheap, we opted for unfinished birch butcher block from Home Depot, and made the area to fit the size of butcher block we could get. I know this is a very backward way to do things, but we had a big space to fill and we didn't want to cut the butcher block.
It was very heavy to handle, but we managed. We added the additional cupboard and the wine cooler for the second island. Honestly, it was super easy, especially as we purchased the unit fully assembled from Lowes.
Sealing Butcher Block Countertops with Butcher Block Conditioner
This was a mistake. I have used 2 bottles of Howard Butcher Block conditioner and it has not sealed to my liking. I'm not saying the product was at fault though, I loved the idea of it. I am just not sure it should even be used on unfinished butcher block.
The butcher block conditioner is a blend of genuine beeswax, Brazilian carnauba wax (hardest natural wax available), and pure USP Food Grade Mineral Oil.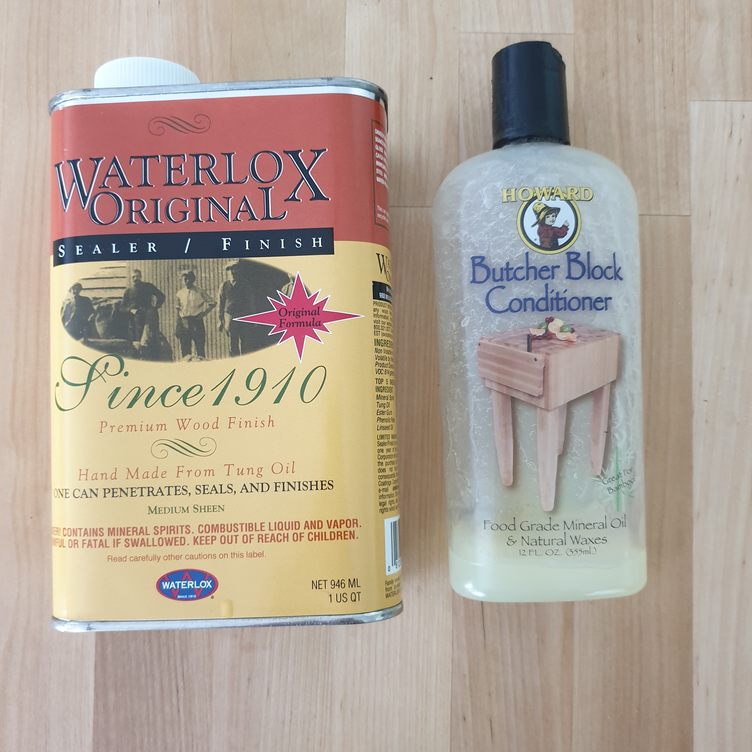 It did soak into the butcher block very nicely, and there was a big difference when finished compared to the unfinished birch. I have given it maybe 10 coats of the conditioner, yet in my opinion I don't feel like it is sealed. I certainly wouldn't put anything hot or dirty on it. However, it looked great, it certainly had darkened the unfinished birch.
Sealing Butcher Block Countertops with Waterlox Original Sealer
Before I settled on Waterlox tung oil I did a lot of research on what best to use. I needed to get it right this time.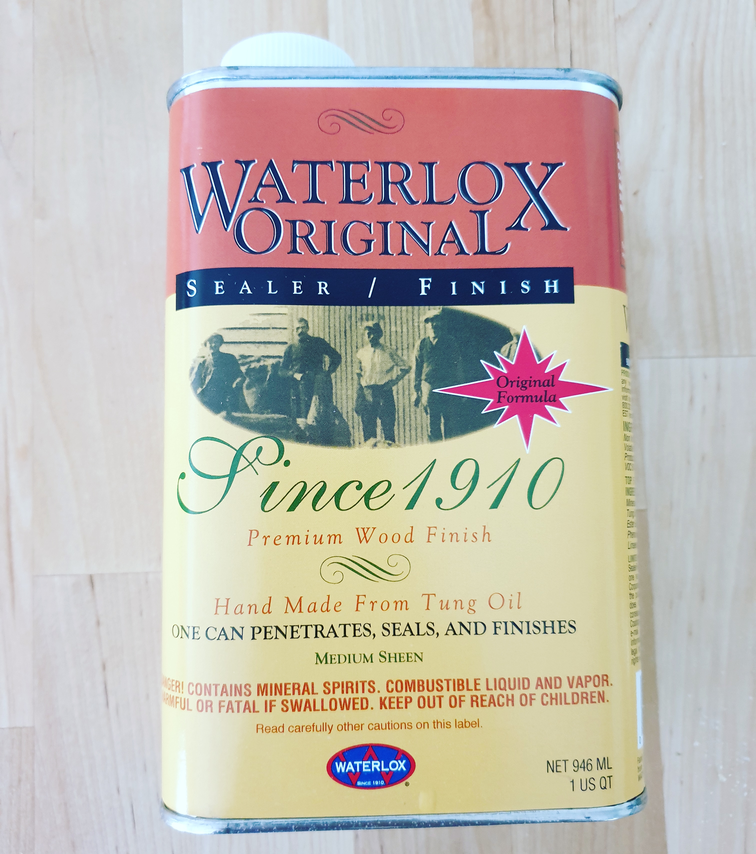 Waterlox is a resin modified tung oil and according to the manufacturer:
"The tung oil provides the best penetrating and drying qualities available while the resin allows the coatings to form a film that is both water-resistant and elastic – standing up to both foot traffic and common household spills."

It was more expensive than the butcher block conditioner, which to be honest, is probably the reason I opted for this in the first place. It costs about $32 for a quart, which in our area did 3 coats.
Be careful when pouring the Waterlox oil out into a container, as it will spill everywhere. Luckily this wasn't a problem for me as I poured it over the butcher block.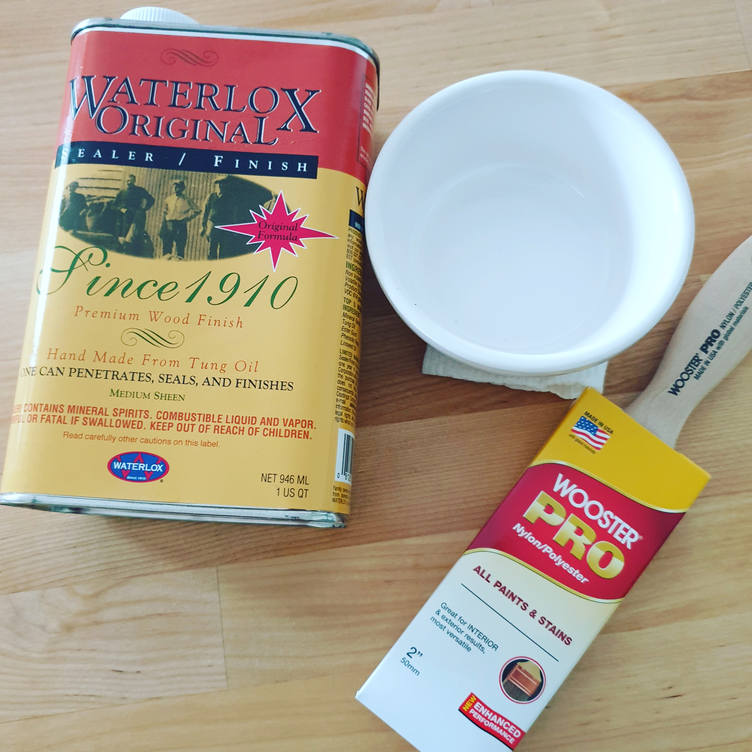 It is a fairly thin oil that should be added to the countertop very generously. As I was desperate to get this on I stupidly did it straight after dinner so we were sat watching TV at night with a strong smell of tung oil. In an ideal world of no Covid we probably would have gone out! With a strong smelling candle though it seemed to go away much quicker than I was expecting. The following morning the house didn't smell.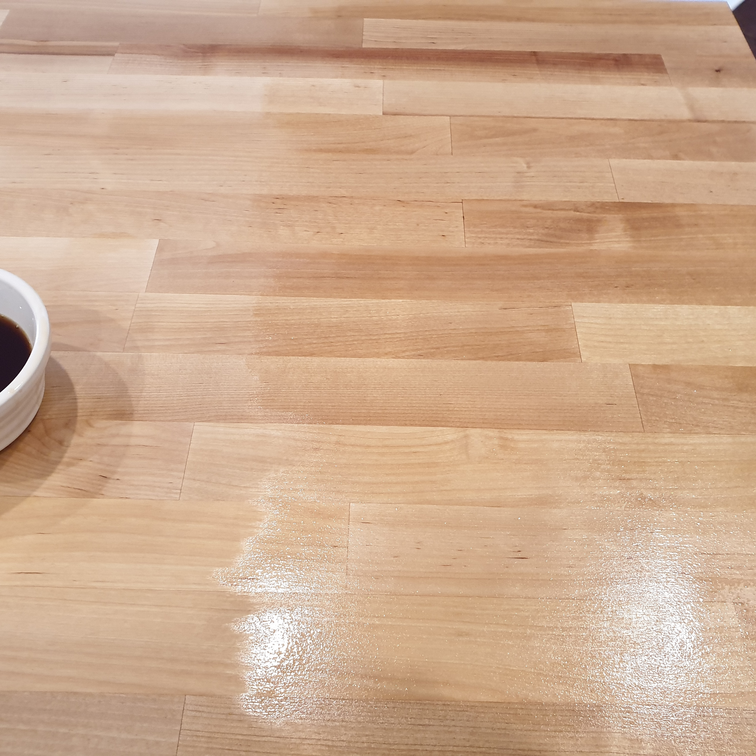 I didn't sand the butcher block counter top so I put it on over the butcher block conditioner. The shiny area is the Waterlox tung oil compared to the butcher block conditioner.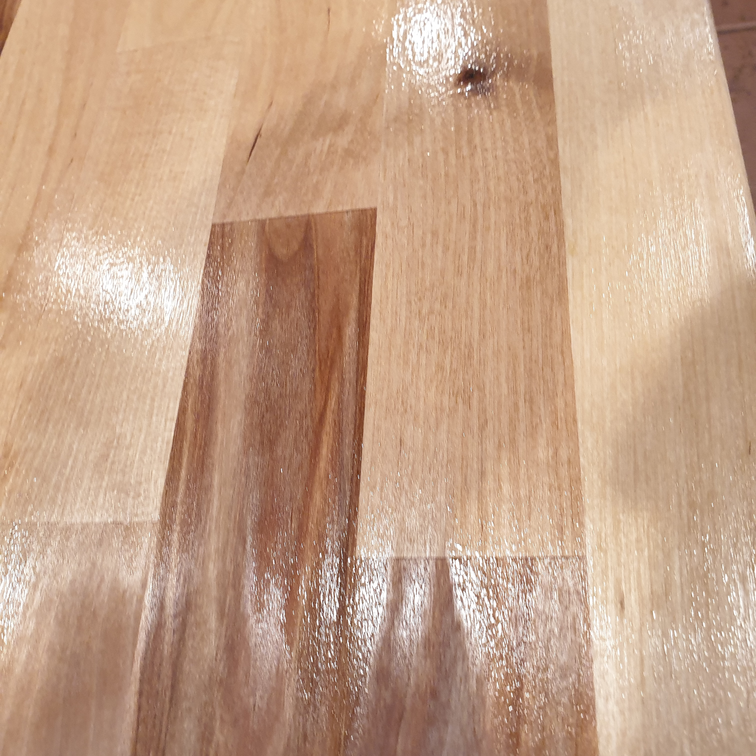 Check out how shiny it is!! Now this is on instant application and the following morning certainly didn't have this very wetlook shiny affect. However, there was a slight sheen.
If the butcher block had not been treated Waterlox recommends 3-4 coats with 24 hour waiting time between each coat. I added 3 coats to our worktops and I am super happy with it.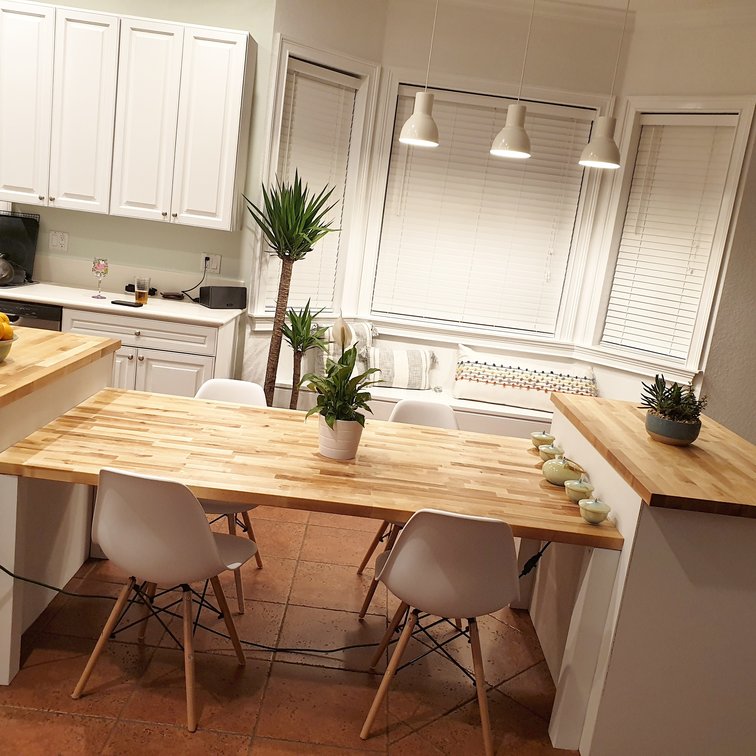 Waterlox Review
Pros
Easy to apply
Made the butcher block countertop waterproof
Added a lovely sheen to the butcher block
Beautiful finish
No sanding is required between coats
Cons
Fairly expensive (but well worth it)
It makes the kitchen smell for about 2 hours
It is 24 hours drying between coats
Overall Review of Waterlox

4.9/5
Butcher Block Countertop Maintenance
Butcher block countertops are really striking, however, they take a lot of looking after. After you have sealed the butcher block with Waterlox tung oil, you need to re oil them every 3 months. By doing this simple step though your butcher block countertops will always look like new.
If you love DIY check out our new tiered plant stand we made out of wood for less than $5.